Silver Market Crash of 07-07-2017
During the 7th of July 2017 an interesting event happened in the silver market. During low liquidity hours the market dropped from $15.2 per ounce to $14 bid in a fraction of a second. On many charts this figure appears to be a little higher, for example around $14.2-14.4.
During trading hours, we witnessed the spread (difference between the bid and the ask) increase tremendously. These large difference between the bid and the ask may have caused some confusion after the event, as some charts are plotted in bid price, while others are plotted in ask price.
Another reason for the discrepancy in price on many charts may have been because a lot of brokers could not handle the very fast change in price and may have made the market with a slightly different price. As a result, it is difficult to determine the exact low that was created and arguably there is no "one correct price". The move occured at approximately 23:00 PM London time.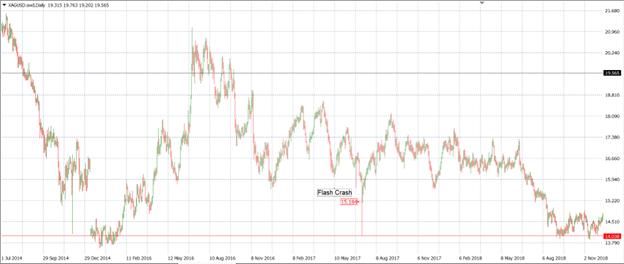 After the low was in, a sharp retracement was made, and the market continued to rally before making a high for the year of $18.2 on the 8th of September 2022.
The date of this crash is particularly noticeable, since it contains three number 7's, much like a slot machine jackpot. For some insider traders this may indeed have been a jackpot. Many traders are known for being superstitious with numbers and this may be a big example of market psychology or more likely some kind of coordinated market manipulation.
Disclaimer: This is not trading or investing advice. Please do your own due diligence before buying or selling any asset. Your financial decisions are your own.